Like previous years, CuraBox will celebrate International Boxing Day (IBD) in 2023. CuraBox will celebrate this a day earlier, on Saturday August 26, with the finals of the Curacao National Boxing Championships aka "Kampeonato di Korsou di bokseo".
Date & time finals: Saturday evening August 26, 2023 from 18:00 till 22:00
Entrance tickets:
Presale; General Naf. 20,- and Ringside Naf. 35,-
At the door 5 guilders more.
Location: Sala Errol Rooi – Sentro Deportivo Korsou (SDK) Brievengat
Organization: CuraBox (Curaçao Boxing Association)
Sponsored by Fundashon Desaroyo Deportivo Korsou (FDDK) and Pro Rent BV.
On August 11 the draw took place for the weight class 67-71 kg in which there are 3 boxers.
The results of the draw; Semifinal Raekwon Baas (Baas Sports) vs Tahier Wilson (Kapap). Angel Dario Montiel Chirino (AA Boxing) has a bye and will go directly to the final against the winner of the semifinal between Raekwon and Tahier.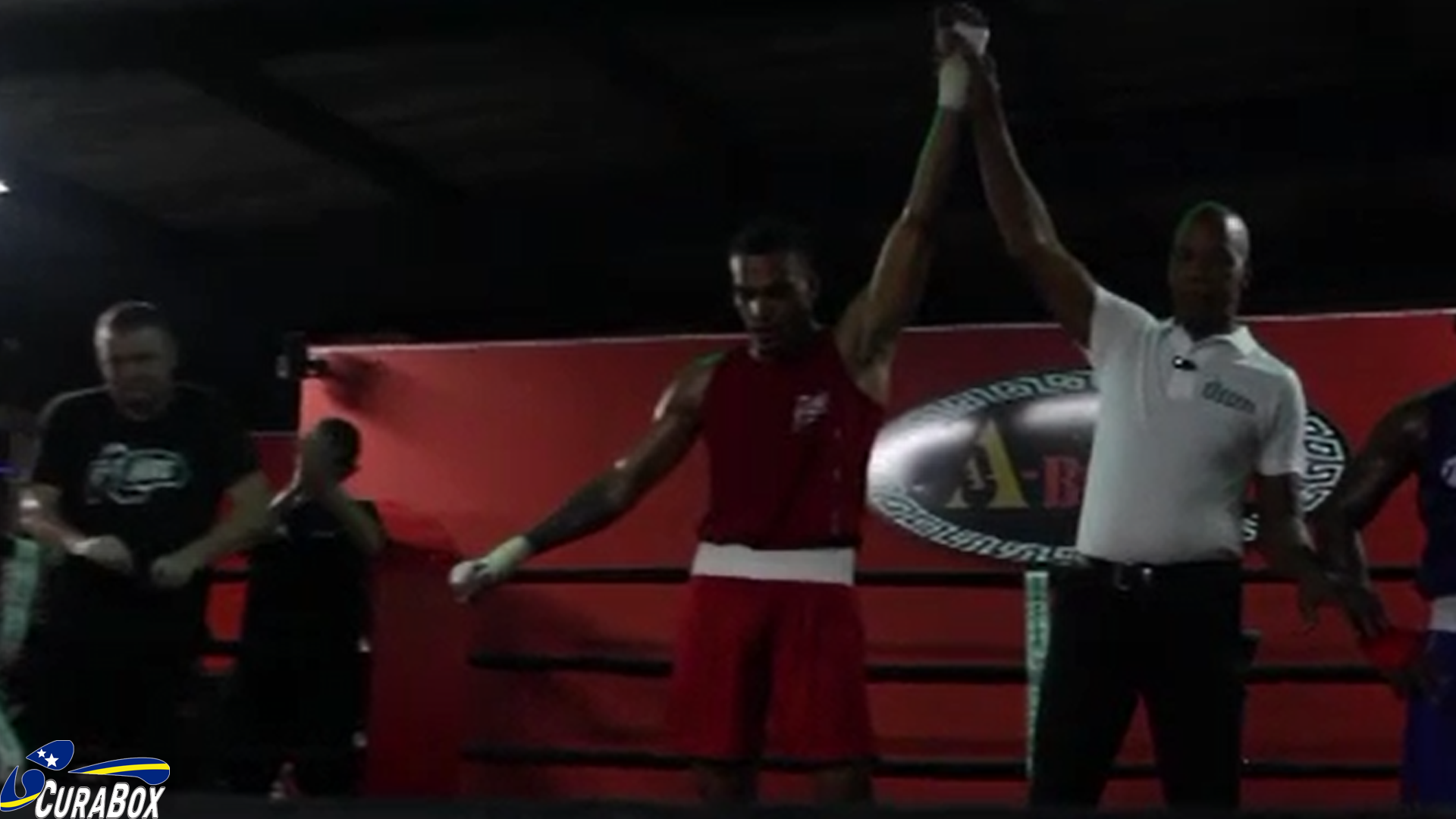 There was no opponent for Jaydon Dania (AA Boxing) and that is why he is taking on a big challenge. With only 10 amateur boxing matches, he will compete against Venezuelan professional boxer Keiber Zapata "El peligro" Gonzalez with a professional record of 19 pro-fight, all 19 wins and therefore no losses. As an amateur, Gonzalez who currently lives in Curacao and trains at Supreme Boxing Centre has done 50 or 60 bouts. So many that he can't remember the number.
Yet Jaydon "the Beast" is far from without a chance given his victories this year in the Netherlands and Sint Maarten, his bout against the multiple champion from Germany and his sparring match with Tony Jas.
This fight promises to be a true spectacle just like the other fights.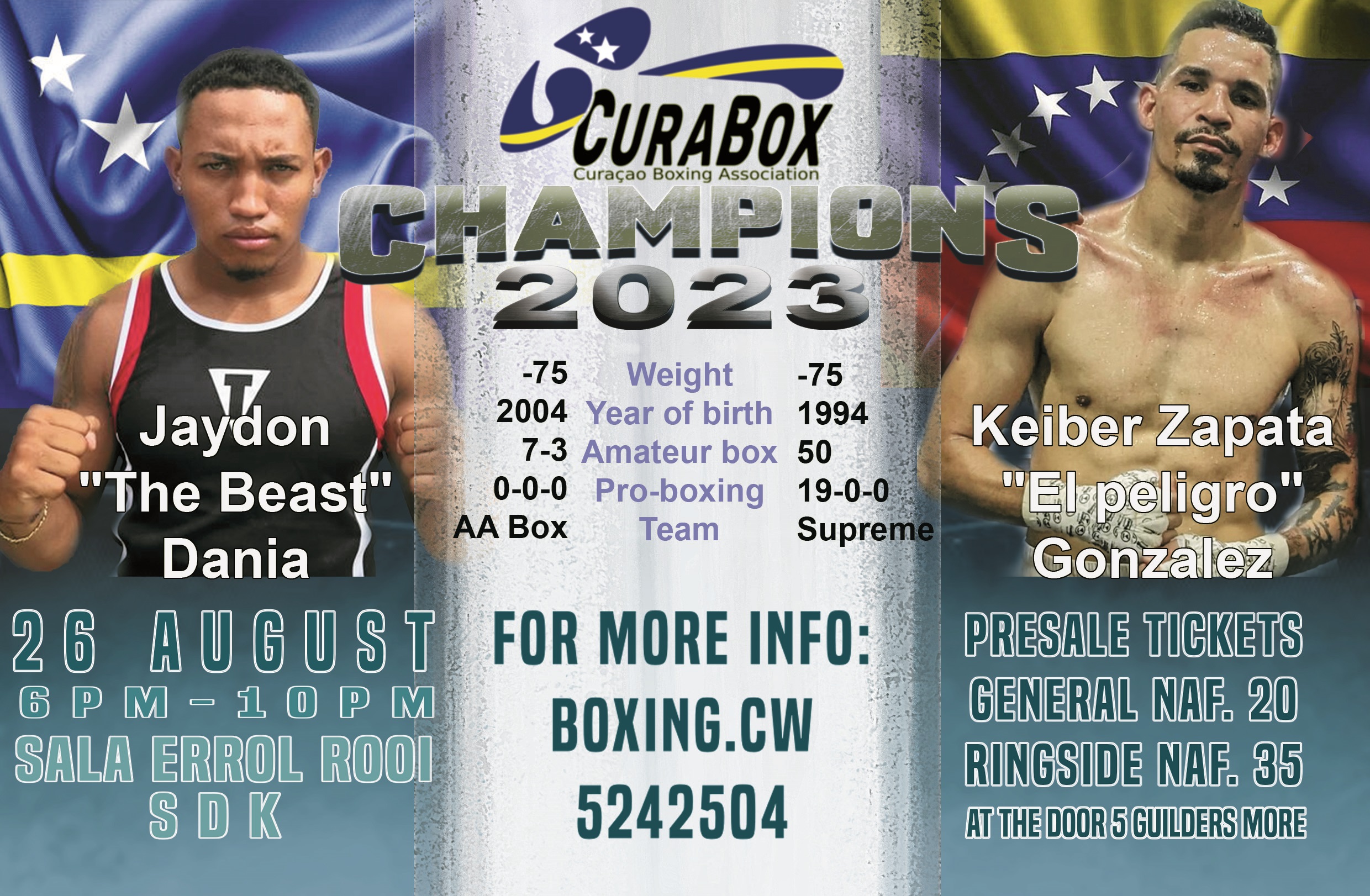 Kampioenschap regels
Een bokser kan geen kampioen worden zonder een wedstrijd met uitslag te hebben gebokst in het kampioenschap.
In het geval er geen tegenstander is in een bepaalde klasse dan is een prestatiepartij mogelijk. Een bokser kan in dit geval boksen tegen iemand uit een hogere/lagere klasse.
Men kan dan kampioen worden in zijn/haar klasse indien de geleverde prestatie als kampioenswaardig wordt beoordeeld.
Als er in een hogere of lagere klasse niemand is voor het leveren van een prestatiepartij zal een gelijkwaardige tegenstander gezocht worden in de regio als hiertoe mogelijkheden zijn.
Voor de opkomstmuziek van de boksers dient men de youtube link te mailen tot uiterlijk 18 augustus naar info@boxing.cw
De clubs moeten de namen van de coach en seconds (maximaal 3 personen per club) uiterlijk op 18 augustus doorgeven. Indien zij dit niet doen, kan er geen badges voor ze gemaakt worden en hebben ze geen vrije toegang tot het evenement en geen toegang tot de FOP (Field of Play). 
Boksers moeten bekend zijn met de commando's en signalen van de scheidsrechter. Iedereen die betrokken is bij de bokswedstrijden moet bekend zijn met de regels.
CuraBox wenst iedereen veel plezier en sportief succes tijdens de kampioenschappen.